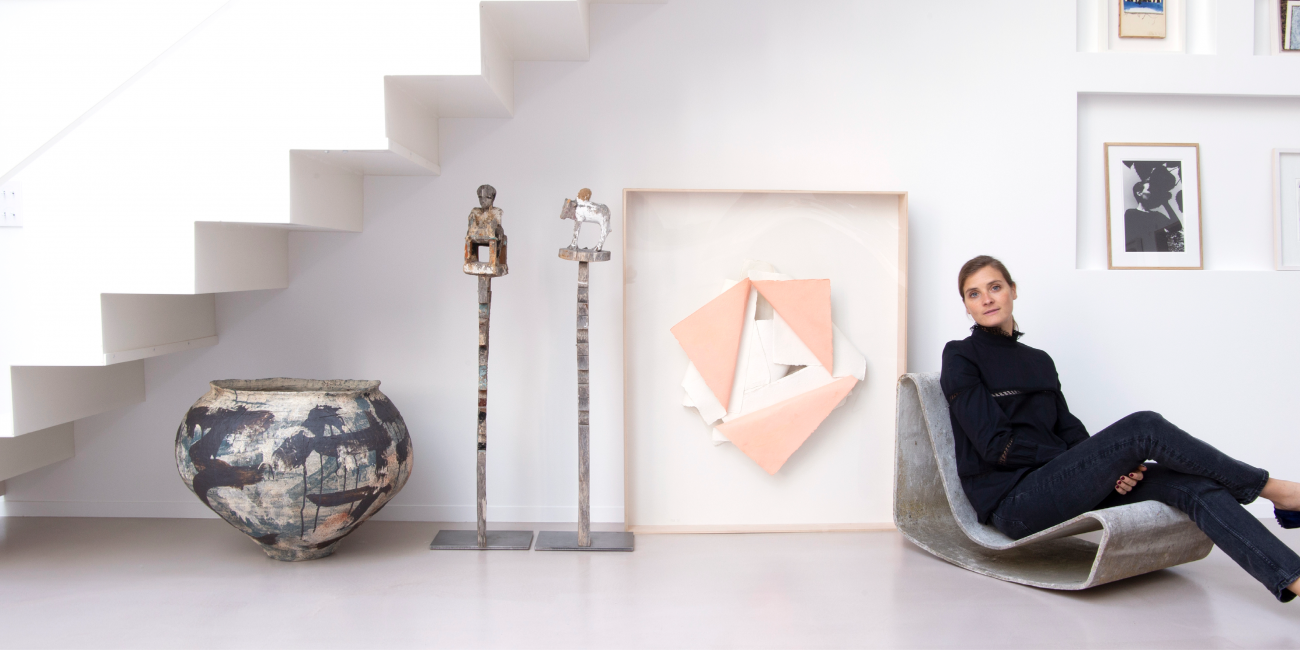 Inspiration
Amélie du Chalard
The daughter of an artist, former banker and now owner of a new kind of gallery, Amélie du Chalard has led anything but a traditional life. So perhaps understandably, she found traditional galleries often intimidating, disconnected and rigid. Thus she opened her art house, a place apart and alive, where her collection of abstract art is displayed as if in a private home. She tells Smallable about her collection's focus, and her plans and projects for the year ahead.
Amélie du Chalard in her Art Room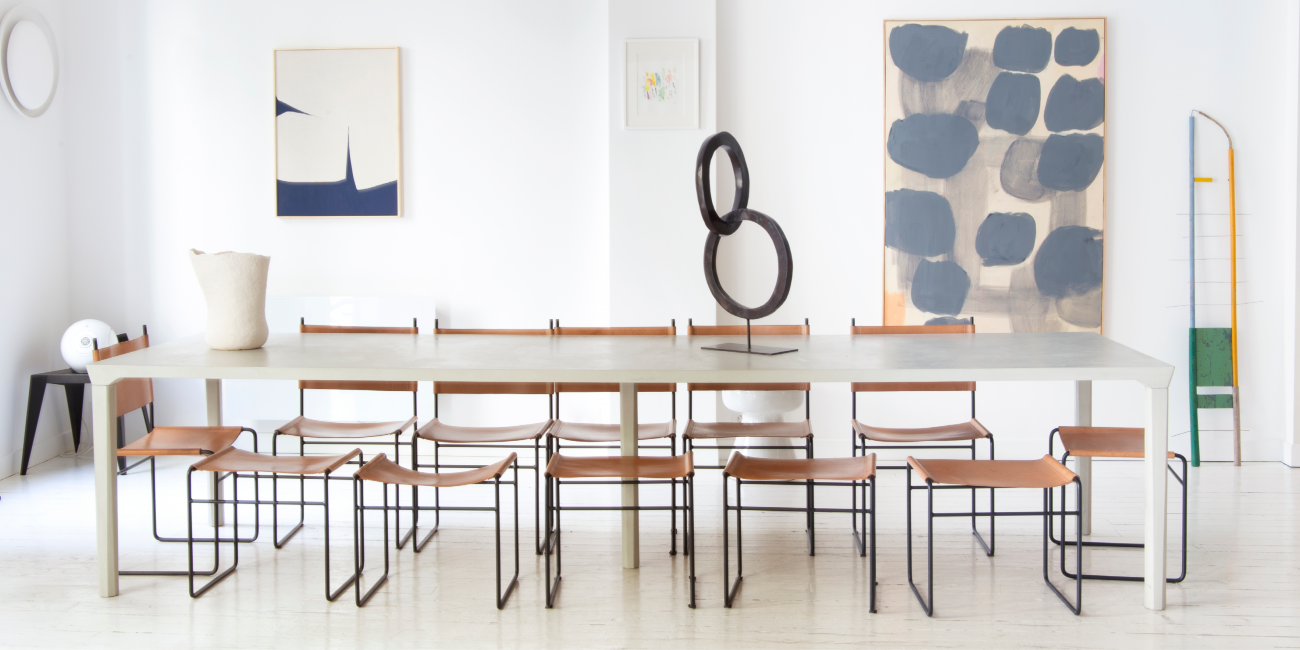 ​Amélie du Chalard's Art Room

WHAT ARE YOU LOOKING FORWARD TO IN THE COMING WEEKS AND WHAT ARE YOUR RESOLUTIONS FOR 2020?
"Time! I feel like I have spent the past few weeks of my life running around. Thank you for reminding me, I haven't thought about my resolutions for 2020 yet... But making more time would be a good thing. To support my teams, our artists, and keep coming up with new ideas."


Amélie du Chalard seated on a chair made by Damien Le Bocq in her Art Room


WHAT'S NEW FOR MAISON D'ART THIS YEAR, AMÉLIE?

"We're starting the year off on a high with a very fun partnership with the Conran Shop in January, an exhibition of Charlotte Culot's magnificent tapestries in February and a tailor-made display at Philippe Hurel in March. And, of course, the Art Room continues to host exhibitions of our artists every two months; we generally combine a painter, an artist who works with paper and a sculptor.

As for the hotel part, in the first half of the year we're supporting Tristan Auer and his teams in their finalisation of the Scribe [Sofitel Le Scribe Paris Opéra Hotel], and Charles Zana with the first Parisian Kimpton."


Sculpture by Victoire d'Harcourt and Les coureurs Rhizomes 1 Tapestry by Charlotte Culot
Paintings by Charlotte Culot. Bronze sculpture by Sylvie Mangaud. Sculpture by Dominique Mercadal. Ceramics by Karen Swami. Sculpture by Sophie Bocher.
Sofitel Le Scribe Paris Opéra Hotel redecorated by Tristan Auer © Yann Deret
HOW DID YOU COME UP WITH THE CONCEPT FOR YOUR COUCOU MÉRIBEL PROJECT? AND YOUR OTHER RECENT PROJECTS?

"Each time, we work hand-in-hand with the decorator in charge of the project. For the Coucou project [Le Coucou Méribel Hotel in France], we started discussions with Pierre Yovanovitch and his teams, and rendered our ideas in 3D to come up with our proposals.

It's always very fluid. We quickly agreed to select five artists to create works specifically for the rooms (Frédéric Heurlier Cimolaï, Charlotte Bovy, Virgil Brill, Naoki Kawano and Gaultier Rimbaud).

For the hallways and common areas (lobby, restaurants, smoking room, etc.) we had the pleasure of using works by 15 of our artists (Marie-Claude Bugeaud, Christian Grelier, Natalia Jaime Cortez, Ethan Caflish, etc.) and certain works from the sublime collection of the Pariente family (Rondinone, Chillida, James Brown, etc.)."


Painting by Frederic Heurlier Cimolaï. Lounge chair by Pierre Yovanovitch - Le Coucou Méribel Hotel.
Painting by Gaultier Rimbaud-Joffard. Le Coucou Méribel Hotel.

"Another project that I recently finalised at the end of the year was the Cour des Vosges, Evok Hotel's latest exceptional opus. We created a collection for this establishment thought of as a collectors' house. The selection brings together exceptional pieces, both contemporary and antique."


Cour des Vosges - Evok Hotel, Paris © Guillaume de Laubier
"In a different vein, Maison Delas finalised their work on their sublime new site in Tain l'Hermitage [France] in November - the artistic direction for which has been entrusted to Goodmoods. Apart from having the chance to accompany them for the artistic development of the guest house, we worked with one of our artists, Frédéric Heurlier Cimolaï, for the creation of a monumental work for the cellar. It's a joy to work on these kind of sites!"


Mural painting by Frédéric Heurlier Cimolaï - Maison Delas
WHICH ARTIST (OR ARTISTS) INSPIRE AND EXCITE YOU THE MOST?

"For balance, I will propose one of my artists, an 'out of the ordinary' creator. I really love the work of Delphine de Luppé who has been by my side since the creation of Maison d'art. Her universe, her creativity, her freedom, her talent, her zest for life, her energy, everything is inspiring! I have known her for a very long time, it is a pleasure to work with her and to follow the evolution of her work.

I am also very touched by the work of a contemporary Japanese artist named Rieko Koga. She works mainly in textiles and sewing. Her works are either small and intimate pieces, or huge swathes full of poetry on which you want to lie down."


Left: Bâche Couture 2 by Delphine de Luppé
Recouvrement 2 by Delphine de Luppé
Rieko Koga © Fabrice Le Dantec
AND COLOURS? WHAT IS A COLOUR SCHEME THAT YOU ALWAYS TURN TO?

"Blue. Rather dark but in all its nuances: navy, prussian, cobalt, petrol, indigo."

Grand Ruban Bleu Suspendu by Jacques Salles
Left: Untitled VI and Untitled II by Inès Mélia
HOW DID YOU DESIGN YOUR APARTMENT?

"Like a sentimental space where everything has a history. There are many works and few objects, everything is chosen with care, almost with love I would say."


Amélie du Chalard's apartment
Amélie du Chalard's apartment
Amélie du Chalard's apartment
WHAT DECORATIVE PIECE BEST HIGHLIGHTS A BEAUTIFUL PAINTING?

"A stool. Small and rustic. Ideally, old and wooden. I love stools so much that I have them cast in bronze. In my interiors, you will always see twins: 'the poor' ancient, charming one and the 'rich' brother in bronze."

Amélie Edition stools
WHAT ARE SOME OF YOUR DESIGN FAVOURITES FROM SMALLABLE?
"The Hanging lamps by Valerie Objects, the Still glass teapot by Ferm Living and the Bahia mini wall lightings by Foscarini - they always make an impression."
Hanging lamps by Valerie Objects - available on Smallable.com
Still glass teapot by Ferm Living - available on Smallable.com
Bahia wall lights by Foscarini - available on Smallable.com
AND YOUR FASHION FAVOURITES?
​
"Ulla Johnson's dresses, with Ysé lingerie, and the Dolores coat by Mara Hoffman!
Luckily, I don't have children yet (even if I am looking forward to it one day), because I would buy everything: Ketiketa, Zhoe & Tobiah, Oeuf NYC, etc."
Les Toits de Paris bra by Ysé - available on Smallable.com
Constantine dress by Ulla Johnson - available on Smallable.com
Dolores coat by Mara Hoffman - available on Smallable.com
WHAT ARE 4 GIFTS YOU'D LIKE TO GIVE OR RECEIVE?

"A piece of art from Amelie, Maison d'art, of course! Otherwise, a contemporary dance performance by Pina Bausch or Anne Teresa de Keerschmaker. The magnificent book that has just been released by Hazan on Hans Hartung (the beautiful retrospective currently on at the City of Paris Museum of Modern Art is a must-see), and a small set of Odacité's skincare products - I'd love to test them!"


Art Room - Amelie, Maison d'art
YOUR GO-TO PARISIAN ADDRESSES FOR WEEKENDS OUT AND ABOUT?

"The permanent collection of Beaubourg [the Centre Pompidou]. It is often quiet and always so beautiful. Followed by a tea at Georges (located above the museum)."

YOUR FAVOURITE HOTEL TO ESCAPE TO ON THE WEEKEND?

"If I can't go far, just with my scooter: the Cour des Vosges located at Place des Vosges. If I can take my car, I will go to La Grenouillère, without hesitation. If I can take a plane, I'll head to Sicily for the Dimora delle Balze."

HOW WOULD YOU SPEND YOUR PERFECT SUNDAY?

"In the morning, I always run to make sure I'm hungry for lunch. Then brunch, which often has Italian accents (my husband is Neapolitan). In the afternoon, I like to not make plans: I stroll, I read, I go to an exhibition or check out the Saint-Ouen flea market, prepare projects, etc."

Dimora delle Balze, Sicily (Italy)
Amélie du Chalard's wishlist